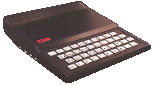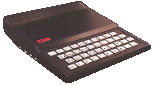 ---
FREE HIGH RES GAMES - ROCK CRUSH AND DANS REVENGE:
---
NEWSFLASH: Dec 31st, 2011:
Rock Crush has been re-written!!! A pixel perfect ZX81 version is now available for the iPad! Get it here http://pictureviewerpro.com/hosting/iphone/crush/
Written by the original author - it is an authentic version of the game with many new features if you want them!
PC, Mac and iPhone versions are coming!!!
Update: It is now Feb 2011 and this page has not been updated for many many years.. It is now over 25 years since Rock Crush was released and the time is right to release this document. I hope you enjoy reading it! Warning: This file is HUGE! It is a 226 MB compressed PDF document! I was unable to make it any smaller - sorry!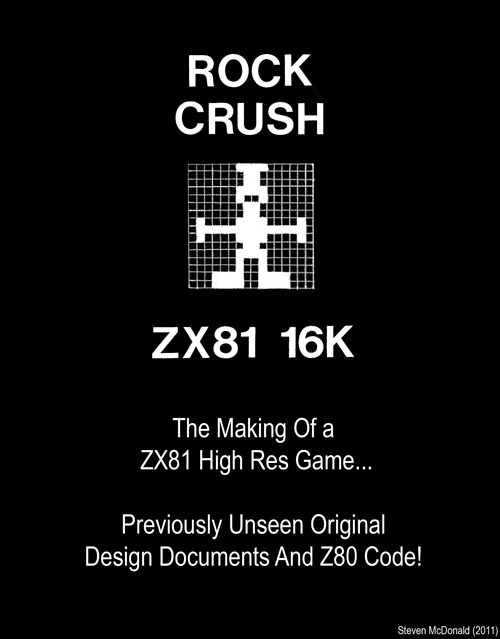 For those with limited bandwidth - click here for the Introduction part only. For everyone else, I have split the ZIP file into three parts. Download them all then any good unzipping program will let you extract the final PDF file from the 3 parts - Links are below.
File Part 1 File Part 2 File Part 3
The book covers the technical design of the games especially relating to the High Res system used - as well as some rare design documents - including the fabled High Res Codesheets - exciting stuff!!!
If you want to know even more detail on ZX81 video software/hardware - Wilf Rigter is your man - inventor of WRX True High Res (albeit with extra simple hardware eg. Static RAM in the 8-16K region) - Read on here: Wilf Rigter Explains In Detail
I did have an 8K Scram board back in my later ZX81 years and wrote some software using WRX - its an amazing system - just a pity not everyone had the hardware available to them at the time. At least pseudo high res was guaranteed to work on almost everyone's setup.

The following High Res games are presented here by the author (myself) as freeware. They will be supported fully on this page. Rock Crush and its follow up game, Dans Revenge were both written over 12 years ago now and have only recently been rescued and made available to ZX81 owners. Both games were written in 100% Z80 machine code and featured a Spectrum quality display resolution on a standard 16K ZX81, without any additional hardware being required. Both are 'puzzle / action' type games and require good reflexes!
In their time they received several rave reviews in national computer magazines and even coverage on Texas's Radio WOAI 1200 - "Computer Line" program, hosted by John Stewart. The station also ran a competition where they were given out to listeners as prizes.
The games were made available mail-order only and a lot of copies were posted abroad to the States and Canada (as well as here in the UK).
John Stewart is an author and computer reporter for Business News Network in the USA and BYTE THIS on Australia's Triple-M Network.
I made contact again with him recently (after a gap of over 8 years) and amazingly, he said, "I still have ROCK CRUSH and a T/S 1000, although I have not used them for some time!"
"I will pass along your URL on the radio in the USA, also in Australia, and in my new newsletter!"
"I'm glad you tracked me down! Now I have to get out the T/S and load the games!"
He is still interested in this fascinating little machine and needless to say, John is now on the ZX81 mailing list!
Incidentally, John also authors a brilliant weekly newsletter covering all the latest news and developments in the computing industry.
You can now get "The ICEBERG" - FREE every Friday from Bestmall's website at: http://www.bestmall.com/iceberg
It's an extremely interesting read!
Both these games have been re-mastered by myself, the author, to run under the emulator, almost identically as they will on a real 16K ZX81. Incidentally, this new version (V2.1) runs the games exactly as the original version did!
Update: New Version Just Released - V2.1!
As a lot of people have been asking me recently, as to how the High Res routines actually work, in response, I have decided to document and release a detailed text file on how this is achieved. You can get this now by clicking here!
Note: You can click on the screenshots below to view the full versions.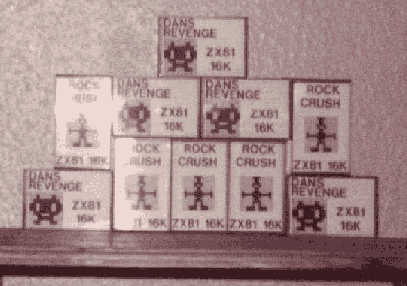 V3.0 of Rock Crush and Dan's Revenge will shortly be made available (runs at the same speed on all cpu's and improves performance on XTender). I also plan a V4.0 for use with XTender2 only. I have had to 'tweak' my games over the different versions to optimise performance with XTender. XTender2 is capable of running the original code exactly as it would on a real machine - so with V4.0 it will be back to the original codebase but with updated documentation etc.
---