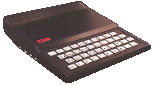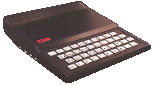 ---
ZX81 USERS CONTACT FORUM:
---
This area is for ZX81 users to get in touch
with each other and help each other out.
You can send correspondance to:

e-mail: zx81@stevemcd.easynet.co.uk
Frederic Stern (ashley17@ix.netcom.com) has written in saying:
"I am trying to locate replacement uhf video modulators for my zx-81. They were manufactured by ASTEC, P/N: UM1233-E36. If you can supply, or know of a source, please contact me.
Thank you for your assistance."
Brian Colby (bcolby@qnis.net) has also written saying:
"I have a Tandy TRS80 model 4, it has a broken motherboard. I would like to take out the motherboard and mount my ZX81 inside. I would also like to make use of the keyboard, monitor, and floppy drives. I am looking for advice or comments on how to do this.
P.S. - I think your page is great, I hope the mailing list works out."
Thanks! The second issue of the mailing list has just gone out and the response has been very good so far. If anyone can help Brian with his hardware project, please get in touch.
Brad Lund (NADER2@delphi.com) has sent the following interesting letter:
"I still enjoy programming on the TS 1000 even with the original membrane keyboard. I have few commercial programs on tape and no games..never did games. I have programmed a performance estimator for airships, another for hot-air balloons, and one for displacement (using Simpson's 1/3 rule) and balance for yacht design. I probably have several others on bits of tape around the house that I probably couldn't find....but then once one has learned to program, the talent is more important than any one program, and this was the great value of the TS 1000 and other early computers...it taught the user to think through a problem design a method of solving it and let the hardware do it's thing.
Well, I don't need to go on and on and on, but I might add that in addition to the TS 1000 I also own and use to some degree a Tandy CoCo2, a TI 99-4a, a Tandy PC-6, a very early IBM PC, and a couple of slide-rules (one for the car for use in road rally events).
Thank you for sending your note, and I hope that I am included among those subscribed to your mailing list, as I would like to be in contact with other users perhaps to track down a modem or share some programs.
Brad Lund."
Perhaps similar minded people can get in touch.

---