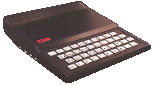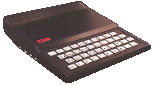 ---
ENRICO TEDESCHI'S SINCLAIR BOOK:
---
Enrico Tedeschi (an avid Sinclair Collector with one of the most complete Sinclair collections in the world) has informed me that he has just recently had published a new book called "Sinclair Archeology". It sounds so good, I have given him a free advert below!
Apparently Sir Clive was very taken by this book (he bought 5 copies!) and Enrico got the chance to meet the great man himself. I asked Enrico about this and his reply was very interesting. . .
"Yes, I have met Sir Clive and I have a lot to say about him. He gave me all his archives with all the Computers, MicroTV's, Calculators etc. PROTOTYPES!!! Can you imagine a wooden prototype of the SPECTRUM. It must the only one in the world!
He also gave me another prototype - an FM WATCH *with loudspeaker*. I am dying to tell the world about all this but I have difficulties.
I forgot to say that I have the most complete collection of Sinclair memorabilia in the world and I have a letter from Sir Clive to prove it. I have done a few exhibitions locally but I am trying to open a proper museum down here in Brighton with the local council.
But I need a lot of help. For example I have a 1Mb web site but I don't know how to put it up. I have downloaded the new Claris *Home Page* but I still have to understand how it works. I have so many things to say and I cannot (electronically) publish them. How frustrating!"
Well... That was a few years ago now and I am glad to report that not only has Enrico built up a great website of his own at: http://www.ndirect.co.uk/~e.tedeschi/index.htm but that his museum is now open also!
Great work!!
Full details are available at his website.
You can mail Enrico at: e.tedeschi@ndirect.co.uk
---
SINCLAIR ARCHEOLOGY:
---

           ========================================================================
           = SINCLAIR ARCHEOLOGY - The complete photo guide to collectable models =
           ========================================================================

TITLE: Sinclair Archeology
SUBTITLE: The complete photo guide to collectable models
PUBLISHER: HOVE BOOKS in Brighton
AUTHOR: Enrico Tedeschi

- 130 pages / A4 format
- more than 300 pictures
- written by a collector for collectors
- backed by 35 years experience
- ISBN 0 9527883 0 6

      -----------------------------------------------------------------------------------
      - price: £10.00 plus £2.00 post and packing (USA $25 including air mail delivery) -
      -----------------------------------------------------------------------------------

If anybody wants to buy a copy of the book it is only available from me at: 

                   ===================================================
                   = Enrico Tedeschi, 54, Easthill Drive, Portslade  = 
                   = BRIGHTON BN41 2FD, U.K.-tel/fax +(0)1273 410749 =
                   =       0850 104 725 mobile (24 hours).           =
                   ===================================================


THIS is not the usual kind of book that you read and then put aside, never to look at again.


IF you are interested in obsolete electronics for historical reasons or just plain nostalgia,
in here you will find a lot of practical information, with names, dates and descriptions to
help you recognize and enjoy products that made consumer electronic history.

In particular here you will find:

* an illustration of every single Sinclair product ever made

* a complete list of Sinclair products in chronological order

* technical details and assembling instructions for many Sinclair products

* advertisement reproductions from the magazines of the time

* inside information on Sinclair history

* a complete bibliography

-----------------------------------------------------------------------------------------------

Sir Clive Sinclair has sent the following letter (extracts):


Dear Mr.Tedeschi,


... I would like to say how astonishing I found your book. It is so remarkably complete and
 will be a great help to me ...


Best wishes,


Sir Clive Sinclair.

-----------------------------------------------------------------------------------------------



SINCLAIR ARCHEOLOGY has been reviewed in several magazines all over the world. Here are a few:


- EVERYDAY WITH PRACTICAL ELECTRONICS (GB) = Enrico is determined to keep alive the public's
  interest in the Sinclair Legend
- BRITISH VINTAGE WIRELESS SOCIETY BULLETIN = we cannot ignore the fact that this man has 
  played his part in shaping the world of communications
- AMERICAN WIRELESS ASSOCIATION (AWA) = the book is loaded with copies of Sinclair's ads
- 405 ALIVE magazine (GB) = a treasure trove ... highly recommended
- RADIO BYGONES magazine (GB) = high quality of research
- ELECTRONICS AUSTRALIA = an informative reference
- The INTERNATIONAL CALCULATOR COLLECTOR magazine (USA) = excellent book
- HISTORICALLY BREWED (computer collectors magazine) USA = wow, your book looks interesting
- AIRE bulletin (Italian antique radio collectors club) = news given
- SARAH PLAYFORTH (manager East Sussex County Council Library Services) = thank you for mounting
  the splendid exhibition
- JOHN JARROLD (editorial director of Century Books, a division of Random House publishers)
  = fascinating book
- ANDREW EMMERSON (TV collector and author) = excellent book
- Mr.A.BEAR (Somerset) GB = wonderful
- Mr MARK GREENIA (author of the History of Computing Encyclopedia) USA = a great piece of work
- Mr.PAUL KING (West Sussex) GB = fascinating
- Mr. LARRY GILBERT (calculator collector and author) USA = It s great!
- Mr.NIGEL TOUT (Leicestershire) GB = excellent
- many more.....

---