Silly Laws Is Now Available In The App Store!



Latest News:
Silly Laws 1.1 And Silly Laws Lite 1.1 Released!
New facts added to both versions!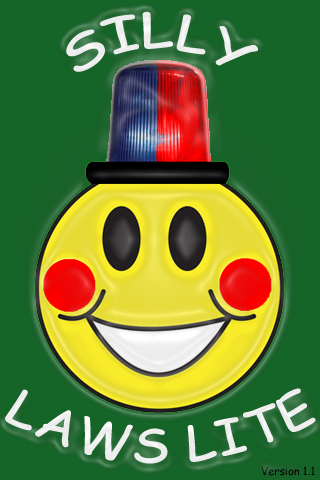 Featuring The World's Dumbest Laws...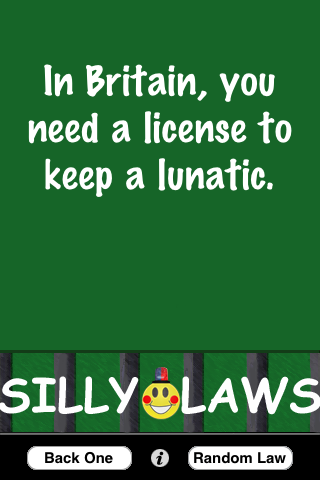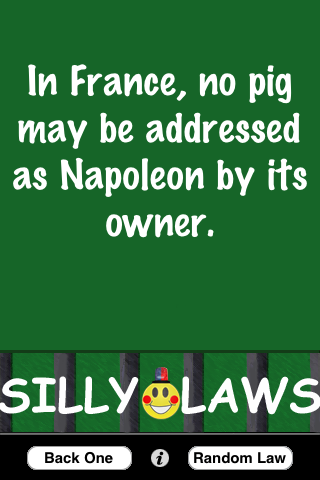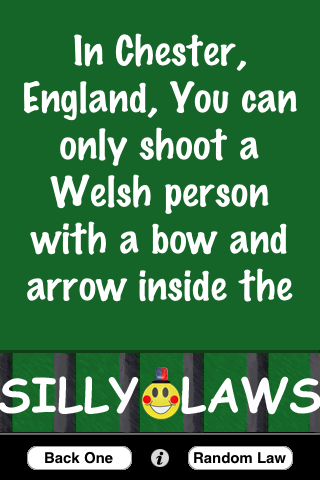 Guaranteed To Put A Smile On Your Face!!
'Silly Laws' has a comprehensive database of some of the world's dumbest laws...

From deflowering virgins in Guam to toilet flushing in Switzerland and pig raising in Israel, these laws are sure to raise a smile.

Please be aware that the developers of this app don't recommend that you break any of these laws in the process of checking to see if they are still upheld, and as such cannot be held responsible for convictions or penalties you may suffer if you do so. (Just in case anyone has any ideas !!!!)

Shake the device for the next random silly law or click the buttons at the bottom of the screen to go to next random law - or go back one if you want!

You can copy/paste the definitions elsewhere...


Disclaimer:

Laws shown here have been collected from sources believed to be reliable, however, there are no guarantees.

Some may not be accurate, but they will all provide plenty of entertainment and hopefully make a few people laugh at the world.

Please enjoy this app and we welcome any suggestions you may have for any future updates.
Silly Laws - Support Information:
If you require technical support, please click below to send us an email.